Whitefish Bay High School
Class of 1964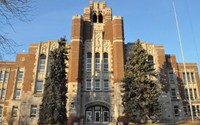 WFB CLASS OF 1964
55th Year Reunion!!
LET'S GET TOGETHER, BLUE DUKES!
The years have rushed by since our days at WFB High School! There are stories to be told, common experiences to discover and memories to share. Come "home" for your 55th high school reunion weekend. Let's enjoy time together. You WILL be missed if you miss it!!
On our website make changes to your Profile, and make comments on your friends' profiles. It's time to "chat" together.
If you are on Facebook and are not part of our "Group", join us by clicking on the "Class of '64 Facebook Group" on the left-hand side of the Home page of our website.
Check out some of the photos on the website and watch for more to be added. Add some of your own pictures!
Make your reservations by clicking on "55th Reunion Reservations"! Here are our events.
Thursday, October 10
Let us know if you will be in town and want to get together in the evening.
Friday, October 11
3:30 p.m. – 5:00 p.m. – Cumberland and Richards grade school tours.
3:45 p.m. – 5:00 p.m. – Henry Clay school tour – This is now the WFB Middle School.
6:00 – Midnight – Holiday Inn Milwaukee Riverfront – 4700 N. Port Washington Rd.
Fish Fry Dinner with CASH Bar
Cost: $29.00 if paid on or before 9/5/19
$34.00 if paid after 9/5/19
Saturday, October 12
10:30 a.m. – Whitefish Bay High School Tour – Come see all the changes!
6:00 – Midnight – University Club of Milwaukee "Country Club"
7401 N. 43rd St., Brown Deer, 53209
Dinner with CASH Bar
Cost: $44.00 if paid on or before 9/5/19
$49.00 if paid after 9/5/19
Sunday, October 13
9:30 a.m. – Our tradition is to enjoy breakfast at the Holiday Inn with those classmates who can join us. It has been a delightful way to relax and say our "good-byes"! Cost: Self Pay at the restaurant
Contact Valerie Hammond Jablonka with questions vjabl64@hotmail.com – 414-961-1431
(On vacation 8/18/19 – 9/3/19. ONLY email during this time.)
ANNOUNCEMENTS
Hello to all my 1964 Whitefishbay classmates.
My wife of 43 years and I have retired from Illinois and have moved to South Florida.
We live in an over 55 and gated community in beautiful Boynton Beach, Fl.
I'm wishing all my classmates who attend our 55th Reunion an Awesome Time.
I will not be attending this year,but I'm looking forward to our 60th Reunion in 5 years to see all of you.
Wishing all you of you a Happy and Healthy rest of 2019.
Steven Swedlow
I'm sorry I will not be able to make the reunion this year! Lots going on with getting my former home ready to go on the market It's been more of a marathon than a sprint. Thankfully, this too shall pass. I hope you all have a great time! Scary to think the next one will be our 60th!! Yikes! I sure don't feel that old!!
Candi Scott Noe
Hello everyone! After much planning and deliberation, I'm in the midst of UN-planning a trip to Wisconsin in October. So sorry to miss the reunion. Hope there is a great turnout and that a good time will be had by all. Cheers! Jean Rose Hamann
Was planning on attending until my Arizona sister Pat's (WFB class of 1971) son decided to get married the same weekend in Sedona, Arizona. So sorry I can't make it. I'm sure it will be very enjoyable for all & am looking forward to seeing postings from the reunion & attending the 60th.
Tom Loke
I'm sorry I cannot make this reunion, but wish hope everyone has a great time. Still loving the Arizona heat.
Bill Troyk
Unable to attend 55th reunion. Too many miles, too few faculties left to travel that far. Don't want to be seen on a milk carton. Dean Miller