Whitefish Bay High School
Class of 1964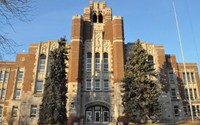 What's New
Posted on: Jun 15, 2020 at 8:50 AM
Happy birthday Trevor. Hope it's a good one. How did you end up in Lakewood Ranch? We looked at moving there several years ago. I believe it was created by the Uihlein family from Milwaukee (one of the kids ran it for several years, too). Take care.

Sponsored Message
Congrats on your retirement! Hope you can enjoy it after this corona crap is over. Is LA pretty much shut down?
Posted on: Jan 13, 2017 at 1:46 PM
Hey there Mary. Saw you posted to Ahna at 1:26 a.m. this morning. You always do that in the middle of the nite? You & "the Donald" Ha! Ha! Have a good one!
Many happy returns on your special day Connie. Hope you are having a good one & you're not snowed in yet!?
Many happy returns on your big seven-oh Pat.
Happy birthday Bo. Hope your big seven-oh is a good one & you have many more.
Posted on: Oct 05, 2016 at 6:38 AM
Happy big seven-oh Mary. Hope it's a good one.
Posted on: Sep 19, 2016 at 1:38 PM
A quick summary of my life (to date).

I attended Cumberland grade school from 2nd through 8th grade and Whitefish Bay High as a freshman and sophomore. My parents sold the house on Woodburn St. and moved to Fox Point in Dec 1962, so unfortunately my brothers, sister and I had little choice but to move with them.

After high school I played bass and guitar for a couple of years in rock bands.
Worked as a precision machinist and as a motorcycle mechanic.
Did a bit of motorcycle racing.
Got a degree in automotive technology.
When my draft letter came in the mail during Vietnam I enlisted in the Navy Seabees for a couple of years as a heavy construction vehicle mechanic.
Got married to the lovely Mary and had a couple of daughters, Jennifer and Stephanie.
Worked in a Tiffany-style stained glass art studio. Worked as a pipe organ installer and repairer.
Got a bachelor's in engineering and had a son, Christopher.
Did some more motorcycle racing and had another daughter, Elizabeth.
Taught computer science at UWM and UW-Waukesha for seven years, and had another son, Timothy.
Got a master's in computer science engineering and had another daughter, Catherine, and a son, Thomas.
Spent 20 years as a manager/director in IT. Retired in '03.

Currently hobbies include child maintenance (of my kids), photography, computers, electronics, garage band guitar playing, woodworking, home repair, motorcycles and auto mechanics.

I'm getting old.

Sponsored Message
Hope your special day is a good one & you are enjoying your retirement in sunny southern California. I envy you the weather but not the costy of living. Have a good one!
Nin hao! Many happy happy returns on your special day Nancy.