Whitefish Bay High School
Class of 1964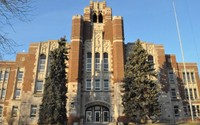 Reunion Booklet Questionnaire
We want to hear from you now!!
Deadline for narrative write-ups, photos and reservations - ***September 5***
We are planning a "special" reunion booklet this year, and we need your help.
After completing your personal information below, PLEASE write a narrative of your personal reflections in the space provided that tells us about YOU today. Your narrative will be printed in the booklet. You may also send this by mail or email.
Here are some questions your classmates have suggested that might help you to complete your narrative.
Where have the past 50 years taken you? (In life? Career?)
Who are the significant people in your life?
What was least expected in your journey from high school to where you are today?
What stands out as BEST over the past 50 years?
What occupies your time? (What are the priorities in your life today?)
What do your future plans include?
These are just suggestions, and we encourage you to tell us whatever you wish.
Photos!!!
The booklet will contain our high school senior pictures. Our committee would also like you to share a favorite current photo for the booklet. Attaching your photo to an email is the best way to send it to us. Copies from our website and Facebook do not print as clearly. You may also send a print by mail which we will return to you, if you wish.
We also want our booklet to be representative of your time in Whitefish Bay. If you have photos or memorabilia you would like to share from elementary school and high school, we would appreciate having those, also.
If you choose to send your write-ups or photos by mail or email, send them to:
Valerie Jablonka, 717 E. Day Ave., Whitefish Bay, WI 53217
Emails to: vjabl64@yahoo.com
THANKS!! Get busy writing today!!!
You must be a member to submit this survey. If you are a member please log in first. You can't submit this form until you've logged in.
* Answer Required

| | |
| --- | --- |
| 4) | * City, State, Zipcode |
| | |
| --- | --- |
| 5) | Second Home - Street Address, City, State, Zip Code |
9)
* Enter YOUR booklet narrative here




4,000 character limit on this site