Whitefish Bay High School
Class of 1964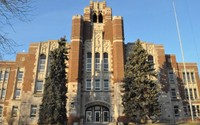 REUNION WEEKEND - SEPTEMBER 19 & 20, 2014
You don't want to mis

s this "once in a lifetime" event




Our 50th WFB High School Class Reunion!!
We will be kicking off our 50th Reunion weekend on Friday, Sept. 19th with a chance for you to return to your elementary school for a tour. Relive your memories of those early years!!
That evening we will be celebrating with a well-remembered Milwaukee dining tradition - a Friday Night Fish Fry! Sprecher Micro Brewery has been reserved for our private event. Founded in 1985, Sprecher is known for its award winning craft beers and its premium sodas. Classmates can enjoy a tour following dinner if there is an interest.
Catering our celebration will be Saz's Catering. Their cuisine has been savored since 1976 and is enjoyed at 18 major Milwaukee festivals. The largest off-premise catering company in Wisconsin, Saz's has been the caterer of choice for Presidential Inauguration parties, the PGA Championship and the Green Bay Packers. Your buffet dinner selections will include: beer battered fried cod, baked cod with lemon butter, french fries, potato pancakes with applesauce & maple syrup, cole slaw, fresh fruit salad and dilled redskin potato salad. The fish will be cooked on site. Save room for dessert - ice cream floats made with Sprecher's premium sodas (large selection including root beer, orange dream and cream soda).
You can sleep-in on Saturday, Sept. 20th as the first bell won't ring at Whitefish Bay High School until 10:30 am. Meet fellow '64 graduates on THE MAP - no bubbler rides will be penalized. You will swiftly pass Mr. Roeder's office and walk down memory lane. Visit your old locker, the Memorial Gym, Rec Center and the Library. Be prepared to be impressed when you see the transformation of the classrooms, the pool and field house additions, the football field with artificial turf, the lovely fine arts wing and the new baseball field at Cahill Square that opened this year.
Following our tour of the high school and the Tower of Whitefish Bay, the afternoon is yours and options abound:
For those interested in some historic Milwaukee festivities--you are invited to gather from noon to 1:30 (or longer) at the Estabrook Park Beer Garden, 4600 Estabrook Drive,
(www.oldgermanbeerhall.com/estabrook-beer-garden). Enjoy a stein of Belgian bier (or Miller Lite), savor a bratwurst, a giant pretzel or a good ol' weiner with high school friends.
Further suggestions for your Saturday afternoon:
- grab a giant burger & milkshake at Kopp's (the former Milky Way) and have a picnic at Klode Park
- catch a movie, lunch/cocktails at the Fox Bay Cinema Grill
- stroll Silver Spring and enjoy indoor or outdoor food and beverage at The Bay or City Market. Don't forget to visit Winkies!!
- have lunch at Historic Jack Pandl's Restaurant - now with heated patio seating. Their famous giant German pancake is still on the menu. Walk it off along Palisades Drive with a stop at Big Bay Park.
- venture beyond the village to enjoy sites downtown - Colectivo Coffee Cafe on Lincoln Memorial Drive (the old pumping station). (www.colectivocoffee.com/cafes/lakefront), the Milwaukee Art Museum and its spectacular addition designed by the Spanish architect, Santiago Calatrava (www.mam.org) or the Discovery World Museum and Reiman Aquarium (www.discoveryworld.org) .
- go shopping - Bayshore (now known as the Bayshore Town Center) has seen quite a transformation since high school with restaurants, a bowling alley, and up-scale stores. Venture north to Cedarburg for an over-load of quaint shops, the Winery and charming small restaurants.
- stroll downtown along Milwaukee's River Walk - a 3 mile pedestrian walkway along the Milwaukee River. Take your picture with the Fonz!
Be back by 5:30 p.m.!! That's when the fun resumes at the Town Club in Fox Point! We hope you will still have some Pep to Rally with fellow WFB graduates!!
Our 50th Reunion site is the classic 113 year-old Town Club which moved to Fox Point 58 years ago. This beautiful venue will be all ours for the night - from the lovely pool patio, and rustic bar to the private dining and gathering rooms. An outstanding dining experience is their norm - especially the turtle sundae's for dessert - a Town Club standard!!
Our reunion night will be picture perfect! In fact you will enjoy unlimited opportunities to take home photos worthy of preservation in your 50th Reunion Book. Have your photo taken with THE BIG BOY, at the Milky Way, under Mamma Mia's sign or in front of Whitefish Bay High School. Gather your "BFF's" (age test); sports team mates; fellow (and still) modern dancers; AFS Variety Show Cast, Band, Orchestra, Library and Hostess Club Members; Yearbook and Tower Times Staff; and pot luck groups, and relish the opportunity to capture this time together - from where we were to where we are today!
If you are up for a Sunday Breakfast Buffet on Sunday, Sept. 21st - champagne will be available on the menu to toast a most memorable time together. On-your-own brunch reservations will be available at the Anchorage Restaurant at the Milwaukee River Inn closer to the reunion date. Updates will follow.
Make your reservations today! Deadline: September 5, 2014
WE WANT TO SEE YOU!
ANNOUNCEMENTS
I am pleased and proud that Café Manna has been again nominated to the WISN A-list. Please take a moment and vote for Café Manna as "Best New American" restaurant. We appreciate your support.
http://wisn.cityvoter.com/cafe-manna/biz/104184 Thank You!
Happy Holidays to all. Jim